Social Media Trends for 2016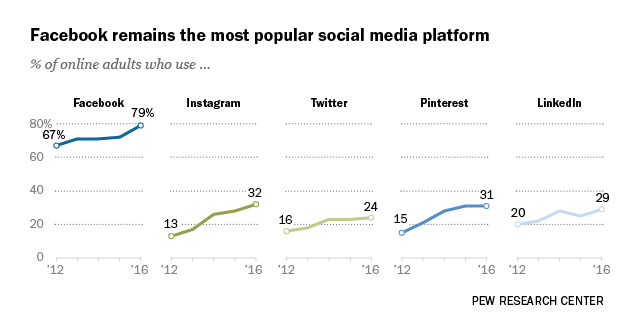 The PEW Research Center social media trends survey for 2016 shows that Facebook is the dominant social media platform on the Internet. Currently 79% of Americans use the platform which is more than double (or even triple) that of Twitter, Instagram, Pinterest, and LinkedIn. However, that doesn't mean that for your particular business the other platforms are useless.
Getting the Most Bang For Your Buck in Social Media
In the digital age, it is important to have an agile strategy and respond to social media trends. In our experience, the best return on investment on social media for nearly every business is Facebook. However, it is also the platform that is the hardest to earn new followers. Instagram is powerful for businesses that have a visual message (e.g. cosmetics, food, design). However, Instagram is limited because you cannot put direct links to your website and posts, however still a large number of users will access your website through Instagram. Twitter is much more fluid however because of the amount of content it is harder to get on top. Having a targeted, organized digital marketing strategy will help you focus your energy on social media.
Myth: Social Media Doesn't Matter for Business to Business (B2B)
First let's dispel the myth that B2B businesses don't care about social media trends or marketing. Quite the opposite, many B2B compete in industries where every client matters and you have to prove your expertise or worth. By having a rich social media presence, a new or existing client can see your thoughts. The approach for B2B marketing is slightly different than a consumer-based business. Facebook is still the dominating platform. However, LinkedIn is nearly as powerful as Facebook. Since there is less content on LinkedIn it can be easier for your contacts to see your information. On all platforms, to different degrees, you have to pay for new Ads to gain the attention of new users.
Social Media Fatigue and the Election
For the election, TV was still a top source for election results. However, nearly 21% of people were tracking the election results from social media. Now over 1/3 of social media users said they are worn out by the amount of political content on social media. Which means that you and your business should continue to present relevant, positive messaging around your business.
The 'Gig' Economy is Growing
We are fortunate in our business to work with many talented individuals that work 'gigs' with us on the side of their full-time jobs. Nearly 24% of Americans report earning money from a digital job that's an extra income which is higher than his ever been in the past.