Does it pay to deviate from long term SEO strategy for the holidays? You bet it does. While the general consensus is that SEO is part of the long game in marketing, Seasonal SEO to capitalize on trends can impact interest and engagement.
Starting this holiday season, tailoring SEO to include holiday messaging can have surprising effects. Often this only requires slight adjustments.  Although it may seem wasteful to alter your SEO strategy for a few short weeks, there is nothing silly about the benefits. Seasonal SEO can increase traffic, engagement, and SERP rankings, and this can even lead to a decreased need for paid advertising.
1. Do a little research with holiday trends.
Google Trends allows you to research the popularity of specific search terms through time, giving insight into seasonal trends. If you use these discoveries in conjunction with location specific data to identify the trends that will be the most important for your holiday business goals.
2. Focus on what potential customers are shopping for.
Keywords are vital when establishing effective SEO, so tailor your long-tail keywords to seasonal specific searches. If you sell apparel, highlight fall accessories like scarves or boots, which peak in popularity in early October. Searches for gifts for other people soar in the Fall, so let this inform your SEO. Long-tail keywords can be augmented with phrases like "Christmas gift."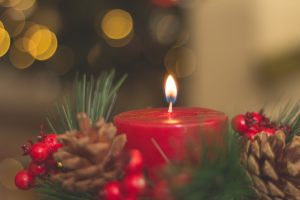 3. Adapt your seasonal SEO strategy to the specific Holiday.
Thirdly, Your best bet is to use the calendar to plan SEO modifications with specific events. Halloween, Black Friday, Cyber Monday, Thanksgiving, Hanukkah, and Christmas inspire specific types of searches, and holiday-specific SEO that is relevant for one holiday may not be relevant for another. Seasonal SEO is a lot like holiday décor, it needs to be traded out for the next holiday, but it can always be used again next year.
4. Cover all your bases.
Furthermore, do not limit your holiday campaigns to just one aspect of your marketing. So, you should update your website, email campaigns, and calls to action. Alter your web designs and don't forget to add seasonal specific posts to your social media posts. Don't forget to adjust your efforts with information from analytics and past successful content. With Thanksgiving and Christmas just around the corner, it's time to use seasonal enthusiasm to your advantage.
Get Help With Your Seasonal SEO Today!
Capital Practice Consulting is a Digital Marketing Agency and Website Design firm located in Falls Church, Virginia in the greater Washington DC metro area including Maryland and Northern Virginia. We specialize in search engine optimization (SEO), content marketing and social media management for businesses in the Mid-Atlantic. We work with medical practices, dermatologists, plastic surgeons, medical spas, dispensaries, ecommerce websites, lawyers, accountants, financial planners, real estate and any field that needs help marketing a highly technical field.