Creating or redesigning a plastic surgery website can leave you mind-boggled. Hours of design choices and organizational schemes must be considered—and it needs to be designed to stand the test of time so that you're not back to the drawing board again after a couple of years. If you're looking for help, the professionals at CPC can assist you in creating modern and sustainable website. However, if you've decided to proceed with the creation itself, here are 8 essential tips you need.
Organize It Logically
Great plastic surgery website design has simplicity at its core. You'll want to make sure that your menu is easily found and contains links to the pages that people will need. Refrain from using images, and instead use concise words to describe each page. There will likely need to be links for services, an image gallery, and financing options.
Relegate less interesting, but still important, links to the footer of the page—things like your practice's policies regarding privacy and the release of medical information. Doing this will ensure that a potential client can access the information they want to see quickly and efficiently. If they can't find it quickly, they will seek it elsewhere.
[Related: HIPAA and Social Media Warning for Medical Practices]
Make it Responsive
These days responsive website design is crucial to guiding traffic to your website. So, what is it? Responsive websites ensure that a viewer can see the best version of your website no matter the device they use to access it. This means that instead of specifying the size of images exactly, images are given a percentage of the browser window on the device running it.
Ignore responsive design, and you'll be making a huge mistake. Mobile devices have topped desktop ones as the devices most used to access websites. If your website looks wonky on a mobile device, your website will be left in the dust. Similarly, you can't just ignore desktop users either because they still make up a lot of internet traffic. Luckily, if you use a content management system like WordPress, you will be able to easily install a responsive theme without learning any of the technical stuff yourself.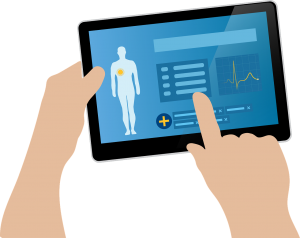 Make it Legible
To encourage people to stick around and read your content, you will need to have typography that makes it easy. This means simple fonts, spaces between paragraphs and on the sides of the page, and colors that are contrasting. Make your font big enough to read. Remember, internet users don't want to work hard for the information they're looking for.
Write a Blog
So, here's the deal. Google uses an algorithm to generate search results. Although the algorithm is secret, Google publishes guidelines to follow, and years of trial and error have taught us what tends to work and what doesn't. The algorithm is now more sophisticated than ever. So, what does that have to do with blogs?
Well, a lot actually. Google analyzes all the text on a page, and the more text you have, the more information Google has to determine how your content is relevant to search queries. So, if Google has indexed a ton of content, it can easily determine that your website is a reliable, credible source of information in particular subject areas. This aspect of your plastic surgery website design is absolutely crucial.
[Related: 7 Simple Steps for Getting More Patients]
Make Contact Easy
Obviously, the goal of your plastic surgery website is to generate new patients. The best way to garner new patients is to make sure each page has a clear call to action. Whether you want them to fill out a contact form, make a phone call, or schedule an appointment, make this easily accessible. Give this call to action a place of prominence on each page. The last thing you want is for a potential patient to get frustrated looking for a way to contact your practice.
Share Videos
Video content has an incredible return-on-investment. Use videos to highlight and explain new products. This method engages consumers in a way that piques their interest and gets them to make contact to access the product or schedule a consultation.
Video content can also be a great addition to your blog, especially when it comes to answering commonly asked questions. Furthermore, your potential customers will get a feel for your personality and bedside manner.
Basic Information
Your website should include a few general information pages. These links need to include a section that describes your practice's guiding principles and philosophy. Typically, this page is found under an "About" header. You can describe credentials, memberships to any professional organizations, and educational background. Information about your team can also be explained.
Additionally, you will want to have a page describing how to contact your practice. The "Contact" page may seem redundant after applying a "call to action" on each individual page; however, some will still seek out this page. So, don't neglect it.
Don't Neglect Schema Markup
When you search for a company on Google, the search results page will not only return a page, it will list other info regarding the company. This will include its hours, address, phone number, and even directions to the practice. Schema markup makes this information available. This helps users access this information quickly without necessarily having to follow the link to your website.
Unfortunately, this information has to be added in the website code, which requires technical knowledge. Fortunately, WordPress and Drupal have plug-ins available that can accomplish this for you.
Help with Plastic Surgery Website Design
These eight tips were designed to streamline the process of designing a plastic surgery website. However, running a practice can be a time-consuming process, and if you're feeling overwhelmed by creating this website yourself, don't hesitate to contact the professionals at Capital Practice Consulting. Extensive experience in website design and digital marketing inform our process. Click here to get started today!
We specialize in search engine optimization (SEO), content marketing and social media management for businesses in the Mid-Atlantic. We work with medical practices, dermatologists, plastic surgeons, medical spas, dispensaries, e-commerce websites, lawyers, accountants, financial planners, real estate and any field that needs help marketing a highly technical field.