WordPress is a wonderful tool and is generally very easy to use. However, there are some common WordPress errors that can cause you to stress.
Before you panic, know that the error you are seeing has most likely been reported and resolved by someone previously.
So, here are 15 of the most common WordPress errors and how to fix them.
Note: Make sure that you have a complete WordPress backup before attempting to fix any errors.
Internal Server Error
This usually appears when the server is unable to identify the problem. To correct it:
Check for corrupt .htaccess file
Increase the PHP memory limit
Deactivate all plugins
Re-upload core file
Syntax Error
This usually occurs when you try to add code snippets and the code has incorrect syntax. To correct this, you will need to either remove the code you added or write it in a correct syntax.
Error Establishing Database Connection
This happens when the user has entered or modified database credentials incorrectly. It can also occur when your database server is corrupted or unresponsive.
Check the wp-config file
Check your web host
[Related: Best Digital Marketing for Small Businesses]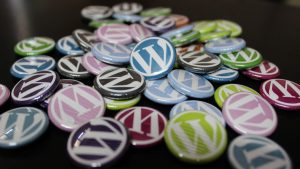 White Screen of Death
This plain white screen is confusing because there is no error message.
It can be caused when a script exhausts the PHP memory limit. To correct it:
Increase the memory limit
Use WordPress Recovery Mode
Disable all plugins
Replace your theme with a default theme
Clear WordPress cache
Enable debug mode
404 Page Not Found
This occurs for a single post, while the user can still browse other sections of the website. To correct this error, you will need to reconfigure permalink settings.
Sidebar Below Content
This error is mostly caused by WordPress Themes. Most of the time, there is a div element that is not closed on the page. Correcting this will eliminate the error.
White Text and Missing Buttons in Visual Editor
These issues occur when concatenated JavaScript is not working It can also be caused by missing or corrupt TinyMCE files. To correct it:
Clear browser cache
Replace TinyMCE Scripts
Try WP Config
[Related: SEO Strategies for Your Blog]
Memory Exhausted WordPress Errors
This one is simple. It occurs when a WordPress script or plugin exhausts the default allocated memory limit. To correct it, increased the PHP memory limit.
Locked Out of WordPress Admin
A forgotten password or a plugin that tries to make incorrect changes to the admin section can get you locked out of WordPress Admin. You can reset your password from phpMyAdmin.
Login Page Refreshing or Redirecting
Normally caused by incorrect values for site URL and home URL fields or poorly configured permalink setting. To correct the issue:
Clear cookies
Revert to default theme
Deactivate all plugins
Delete .htaccess file
Update sited URL
Image Upload Issues
Sometimes, all the images in the media library will appear broken. This is due to incorrect file and directory permissions in WP installation.
To correct this issue, you will need to use an FTP client to change the file permissions.
"Are You Sure You Want to Do This?"
Most commonly caused by a theme or plugin failing to use nonce properly. To fix this:
Investigate plugins
Investigate themes
[Related: Marketing for eCommerce]
Briefly Unavailable for Scheduled Maintenance
Sometimes you may see this error due to an unfinished or interrupted WordPress update.
To fix it, you will need to use FTP to delete the .maintenance file from your site's root folder.
WordPress Not Sending Email
You may not receive a contact form or WordPress notification emails. This is because many shared hosting providers limit or disable the module used to send emails.
Therefore, we recommend not using WordPress to send emails.
403 Forbidden
This error is usually caused by poorly coded security plugins, server configuration, or incorrect file permissions. To correct it:
Deactivate plugins, if the issue resolves, it was caused by one of your plugins. Reactivate them one at a time to single out which one caused the problem.
If it's caused by a corrupt .htaccess file, you can repair it with FTP client.
Fixing Common WordPress Errors
We hope that this has been helpful, but if your business still needs help, contact Capital Practice Consulting.
We specialize in search engine optimization (SEO), content marketing and social media management for businesses in the Mid-Atlantic region.
We work with medical practices, dermatologists, plastic surgeons, medical spas, dispensaries, e-commerce websites, lawyers, accountants, financial planners, real estate and any field that needs help marketing a highly technical field.