Google announced this year that it will be changing the way it indexes websites.  Google will be using Mobile-First Indexing.  What does this mean for your website ranking?
Google Mobile-First Indexing Vs. Ranking
First, let's make one thing clear. Indexing and ranking are two different things.  However, indexing informs rankings. Google uses the practice of indexing to record the contents of a website. It stores this information in a database. In order to rank websites in terms of relevance to a web query, Google then utilizes an algorithm that evaluates the websites it has indexed. Although, no one outside of Google knows exactly how the algorithm works.  SEO informs how content is presented so that it appeals to probable criteria. So, while indexing is the process of cataloging websites, ranking is the process of evaluating websites. But what does this have to do with mobile and desktop sites?
Desktop Vs. Mobile Google Search Engines
In the past Google has indexed the desktop version of a website. The switch to mobile-first indexing won't necessarily make a big difference for websites whose content is the same for both desktop and mobile access points.  Desktop sites that have longer, more in-depth content than their mobile counterparts may be negatively impacted by mobile-first indexing. To avoid this, make sure that both formats of the website contain the same content.  You should also make sure to go further by using responsive web design.  This ensures that not only the content is the same.  But, the format works well no matter what device is used to access the site.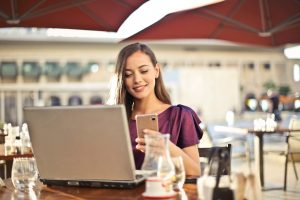 Indexing Is Still Not Ranking
While it is true that content variations between desktop and mobile versions may affect how sites are ranked, these sites may still be ranked differently. For example, pop-ups that appear on mobile sites (asking a consumer to subscribe to emails or advertising a service before allowing access to content) may impact rankings, whereas the same practice may not affect desktop websites the same way. Remember, indexing is simply the practice of cataloging.
The practice of mobile-first indexing reflects the behaviors of internet users. We are simply accessing websites more and more regularly from mobile devices, and Google is adjusting to this trend. SEO that keeps this in mind will be able to seamlessly manage the transition to mobile-first indexing.
Get Help With Your Mobile-First Indexing Today
Capital Practice Consulting is a Digital Marketing Agency and Website Design firm located in Falls Church, Virginia in the greater Washington DC metro area including Maryland and Northern Virginia. We specialize in search engine optimization (SEO), content marketing and social media management for businesses in the Mid-Atlantic. We work with medical practices, dermatologists, plastic surgeons, medical spas, dispensaries, ecommerce websites, lawyers, accountants, financial planners, real estate and any field that needs help marketing a highly technical field.