Launching a website for your eCommerce business is a big deal. In order to garner success, your eCommerce venture will need a clear marketing strategy. While you may know what makes your product or service special, consumers may not. Let's break down what it will take to stand out among your competitors.
1. Share Original Content
When it comes to standing out from your competitors, creating original content should be the cornerstone to your marketing strategy for any eCommerce business. Really dig in and discover ways to communicate to your intended audience why they should look to your product or service for their needs. The team of experts that you've put together to create your business should be the well of expertise you need for creating content.
This content can come in the form of blogs and any good website cannot really function without one. Also look to newsletters, informational videos, and emails. The best content tends to function on a set up of about 80% informational content and 20% sales pitch content. Consumers (and search engines too) would rather look to your business for relevant information and trustworthy advice than to be sold to all the time
2. Have a Responsive Website
Having a responsive website means two things. One, it needs to be optimized for an ideal viewing experience. This means it needs to be easy to ready and navigate. It needs to be refined and modern. Your ecommerce website needs to look at design as its own marketing strategy.
Secondly, responsive websites are calibrated to look the same across devices. This means that when a user goes to access your website on a desktop, it looks the same when they touch base with the same website on their smart phone. Unsurprisingly, too many redirections or a format that appears too wonky on a mobile device will compromise the user experience (UX).  Search engines punish websites for this.
[Related: Mobile-First Indexing | Critical Web Announcement by Google]
3. Embrace Social Media
On social media platforms, use the same 80/20 ratio of informational to promotional content. Moreover, look at social media platforms as a mechanism for discovering more about your target audience—their needs, wants, and issues. This information can offer invaluable insight. So, be social.
[Related: Facebook or Instagram: Which One is Better for Your Social Media Marketing Strategy]
4. Email Marketing Works
Email marketing is still a great tool. A great email marketing strategy for eCommerce business is to make sure the audience is well-targeted. You don't want to be sending emails to uninterested parties. For example, personalize emails, offer exclusive promotions, and share behind the scenes content. Incorporate testing into your email marketing strategy with the free Google Analytics Dashboard.
5. Employ Search Engine Optimization
Equally important, marketing for eCommerce has to include SEO, this means good, quality content, a frustration-free UX and no errors. Content analysis is the cornerstone—so going back to point #1 is vital. Your content needs to be evidence of your credibility, knowledge, and trustworthiness. Also, SEO takes advantage of keywords which help search engines select your website as a match for queries.
6. Utilize Pay-Per-Click Marketing
Pay-per-click marketing is a great resource for marketing your product or service's benefits. In order for PPC marketing to be really effective, your ad has to be specific. In other words, the landing page that it directs to has to be in total congruence with the ad and shouldn't have unnecessary distractions. Furthermore, these ads have to be properly associated with particular keywords to reach the target audience.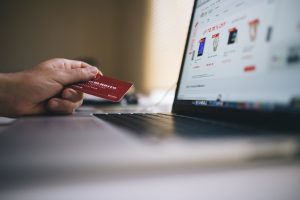 7. Target Local Customers
Fortunately, you can target local customers even if you don't have a brick-and-mortar store with geo-targeting and geo-fencing. These strategies promote your ads to users based on their locations. Incentives further convince your targets to engage with your business.
8. Get in On the Ground with Wearable & VR Technology
Above all, we're talking your smart watches and ads targeting virtual reality technologies. Much of this technology is on the cutting edge, meaning that your audience is going to be pretty niche. Basically, what this means for your business is that if you can identify a specific audience and tailor your ads to them. They'll likely be reached and the market won't be saturated.
9. Do Retarget
Retargeting means circling back to the customers who have already made a purchase with you. Reminding them that they have shown interest in your website can be all the push they need. The key to making retargeting work is to make your message specific. Likewise, reminding them of a particular product they'd shown interest initiates sales. Conversely, forgo trying to push them into similar content.
Marketing for Your eCommerce Business
To sum up, these tips can really get you started towards an effective marketing strategy for your business. If you're interested in a more in depth look at where your current strategy stands, contact the experts at Capital Practice Consulting for a free audit.
We specialize in search engine optimization (SEO), content marketing and social media management for businesses in the Mid-Atlantic. We work with medical practices, dermatologists, plastic surgeons, medical spas, dispensaries, eCommerce websites, lawyers, accountants, financial planners, real estate and any field that needs help marketing a highly technical field.