Find out the Top Secrets to Improving Online Search Rank & Online Visibility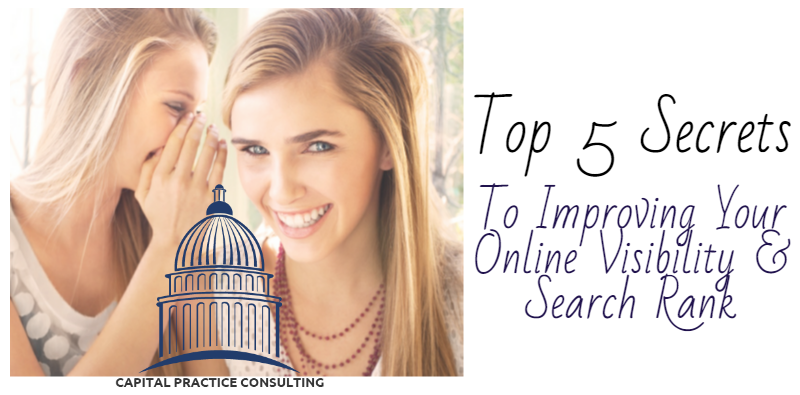 If you are a great physician, you'll have a large pool of referrals and a rich amount of content online. However, more potential patients today are researching online before they decide who to call. If you aren't visible, you are missing out. Online search rank and online visibility is critical to attracting more new patients in your office.
1. Update Your Website
If your website hasn't been updated recently it is worth the investment to redesign your site. A medical or cosmetic website is often the patients first impression of your practice. Thus, choose your image online to match your in-office marketing plan. In addition, keep in mind that a beautifully designed website is only valuable if people can find it online. Click here for a checklist on updating your website.
2. Connecting Existing Online Content to Your Website
Understandably, you've spend years or decades building your reputation as a healthcare provider. In addition, there may be a wealth of content on the internet about you and your practice. However, in order use the power of that content is in a link to your website. These "back links"  improve your website online search rank and provide a way for patients to find you.
3. Engage Patients Online
There are many platforms to engage patients online including RealSelf, Twitter, Facebook etc. Answering questions, engaging patients, and posting interesting content will attract new patients to your office. In addition, each social media platform has its own way for patients to find you. Whether hashtags or tagging people, each method needs a different strategy. Click here for tips to engage patients on social media.
4. Add New Content Frequently
Next, one of the most important factors in online search rank is creating new content, often. Blogging and sharing on social media is a great way to drive traffic to your website. Depending on your medical specialty, you may need to blog everyday to make progress on improving your search ranking.
5. Overwhelmed? Hire a Professional
Finally, if every secret above sounds overwhelming, you are not alone. In addition to your day-to-day responsibilities as a healthcare provider, you are also a business owner. Seek out a Search Engine Optimization and Social Media professional. It is very important to vet this person or company well. Click here for tips on how to choose the right professional for you.
More Information on Search Rank and Online Visibility:
Expert Healthcare Marketing | Top Social Media Management