Medspas are becoming increasingly popular in doctor's offices. If you're an aesthetician you may be wondering how to have a successful medical spa. Sure designing a medspa from the ground up is a daunting task, but we have broken down how to have successful medical spa into 10 surefire steps. Keep reading to get started.
1. What's Your Vision?
Every good restaurateur knows that the more items you have on a menu, the less you're able to influence your customers. Similarly, a successful medical spa will not be able to be everything to everyone. Some focus on ethnic skin, while others focus on an organic or all-natural approach. Homing in on a niche is great, but you will still want to cover the basics in addition to your more targeted services.
Moreover, when combining your  spa along with a medical practice, you will need to carefully consider how synchronous your visions are.  You don't want to offer services that only appeal to a tiny fraction of the practitioner's patients.
2. Put Together a Business Plan and Flesh Out a Budget
A business plan is important for several reasons. For one thing, it enables you to think about every aspect of how to have a successful medical spa. Plus, you need to create a plan to demonstrate to potential investors that you've really done your homework when it comes to the viability of your business. Price points for services and projected monthly revenue will be important. Third, a business plan acts like a guide for all the professionals you will enlist to get it up and running. From office decorators, equipment suppliers, to marketing firms.
3. Invest in a Development Team
While it may seem that you've got every foreseeable kink in your project worked out, a development team is a set of fresh eyes. They will be able to pinpoint issues that have caused similar businesses to fail. Certain scenarios may require separate entrances or private dressing rooms for discretion. A serious team will be able to ensure that your dream comes to fruition.
4. Location, Location, Location
People go to doctor's offices because they have to, not because they're convenient. This is not true for a medspa—customers come because of a combination of convenience and quality of service. Conducting a market feasibility report and competition analysis will clue you into how possible it is to have a successful medical spa in a prospective location. You need to consider zoning restrictions, parking, and demographics.
5. Plan Your Menu & Choose Product Lines
One of the most difficult aspects of setting up your medspa is making sure all the services you offer are in congruence with your doctor's standards. They may feel that their integrity is compromised by some services, and this is a line that you don't want to cross. So, it may be best to seek product lines that are produced by pharmaceutical companies and have clinical results studies.
6. Put in Place Infrastructure
In order for things to run smoothly, the systems that your medical spa will use to keep track of patients, sales, and other data need to be well-established before your staff even enters the building. This will ensure that staff training will involve learning how to use them before you greet your first customer. Having distracted staff will detract from your clients' customer service experience, which won't translate into repeat visits and referred clientele.
[Related: How to Get More Reviews Online]
7. Foster Balance Between Medical and Spa Aspects
The doctor's office needs to feel integrated with the spa—and this can only happen deliberately. A good way to balance these two sides is to create a team of experts that looks at a patient's needs and decides what medical needs will be supported by what spa services. Another approach involves meeting with each client and discussing their goals and giving them education regarding medical services as well. And, thirdly, clients can just choose the services they'd like—this is especially good for cosmetically driven practices.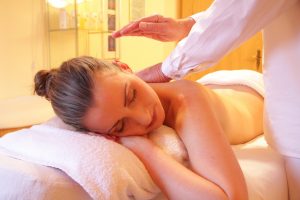 8. Get Medical Insurance
One important factor in how to have a successful medical spa is to be protected by medical insurance. At the minimum, you need malpractice, general liability, and property covered. A licensed insurance agent should visit your facility and design a policy that takes into account your specific practice and needs. Moreover, it's important to note that insurance regulations vary from state-to-state.
9. Choose Good Staff Members
In this high turnover industry, quality staff members make a difference. Look for highly qualified aestheticians, people with experience in dermatology clinics, and registered nurses. Keep in mind that a positive work environment that offers fair compensation, incentives, and continued education goes a long way toward staff retention.
[Related: How to Motivate Your Staff | 4 Tips to Improve Sales]
10. Don't Forget Marketing
You already have a built-in customer base—so reach out to them, offer incentives, and follow up. Go the extra mile to build a relationship with them, and they will trust you and seek out your services. Use your mailing list to send postcards. Use in-house signage and flyers to let new patients and walk-ins know about your promotions.
How to Have a Successful Medical Spa
A successful medspa flows from how it takes care of its clients. Integrating the restorative and supportive care of a spa into medical care effectively will set a new standard of medical care. If you're looking to promote your medical spa and launch a web presence, give the experts at Capital Practice Consulting a call.
We specialize in search engine optimization (SEO), content marketing and social media management for businesses in the Mid-Atlantic. We work with medical practices, dermatologists, plastic surgeons, medical spas, dispensaries, e-commerce websites, lawyers, accountants, financial planners, real estate and any field that needs help marketing a highly technical field.