We are excited to announce that RoundByRoundBoxing.com has been officially recognized by Google News Boxing as a trusted source for boxing news.  Read more about the honor and future plans below.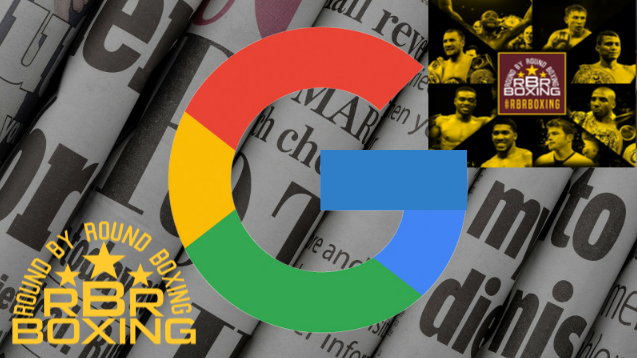 What Does it Take to Be a Trusted Google News Boxing Outlet?
First, becoming a Google News Boxing outlet isn't just from becoming a nationally-ranked website! Google News has strict content and journalistic standards.
News content. Google recognizes many types of news from stocks to sports. The content has to be rich, updated often and engaging. RoundByRoundBoxing.com provides quickly updated content as fast as the mainstream media sources on the internet.
Journalistic standards. All content on the website needs to meet quality, integrity, and high-journalistic standards to be featured on Google. Every post on RoundByRoundBoxing.com must meet high standards for publication. The content isn't about quantity so much as quality for readers.
Authority. Ranking well as a website and Google are only one component. The writing must be accurate and knowledgeable about the subject matter! RoundByRoundBoxing.com is a Top 10 boxing website on Google.
Accountability. You can't be anonymous when writing the news. People have to be able to get in touch with you and you have a long-standing reputation in the online community. Nearly 3 years ago, RoundByRoundBoxing.com was started and has provided high-quality boxing content ever since.
Readability. The content needs to be clean, correct, and error-free. In addition, the website cannot be cluttered with Ads. RoundByRoundBoxing.com has a team of excellent writers headed by Editor Alejandro Burgos.
News technical guidelines
Thanks to the years of experience in search engine optimization, RoundByRoundBoxing.com has been at the cutting edge of Google New Boxing's technical requirements. In fact, just a few months ago a new technology, accelerated mobile pages or AMP, were installed on the website. There was an immediate jump in article visibility online. One of the qualifications to meet as a Google News Boxing source is to be technically easy for users to read and navigate.
Hard Work and Passion Has Finally Paid Off
RoundByRoundBoxing.com started as a passion project by Alejandro Burgos who says, "I am thrilled that we are recognized for bringing high-quality content and breaking news for boxing. Not only have we been recognized by Google, but also in recent months our viewership has soared to nearly 125,000 unique users per month."
Heather Pressler is a business partner from Capital Practice Consulting. She points out, "Google News recognizes the hard work and passion of the writing team at RoundByRoundBoxing.com. We are committed to building the brand and media presence of the company through launching a new website. We are exploring strategic corporate partnerships. The nod from Google News only furthers RoundbyRoundBoxing.com's bright future as a boxing and sport media powerhouse."
Peter Psillos of Capital Practice Consulting adds, "Recently, we made some additional acquisitions. We are in discussions with media providers to add-on to the current capabilities of RoundByRoundBoxing.com. In the near future, we are looking to add video as a main component to boost RoundByRoundBoxing.com's viewership."