In this day and age, everyone seems to know about hashtags, but many seem mystified by how and what they do. You already know that to have a flourishing and growing practice you need a social media presence, but you may not know how to grow that presence. In essence, hashtags can do a lot of the work for you. In this article, we breakdown the best hashtags for your dental practice and how to use them.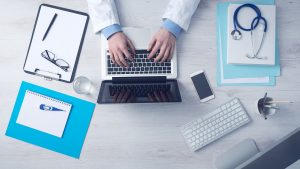 How Hashtags Work
Presumably, you know that hashtags are phrases that follow a pound sign. Ordinarily, they are used to sum up a post's content into a few words. For instance, if you snap a picture of the amazing street tacos you made for dinner on a Tuesday night, you may use the hashtags #tacotuesday and #streettacos, which will then link your post in a hashtag conversation stream of other posts that share the same hashtag.
The conversation linked by the hashtag #tacotuesday will obviously be larger than the conversation associated with personal hashtag like #meghanmakesthebesttacos. So, while it's entertaining to post personal hashtags, they don't do much for exposure. The best hashtags for your dental practice will have some popularity. The one exception to this is that your business should have its own hashtag.
Hashtag Conversation Streams
When interacting with a post, click on a hashtag. You will be taken to a stream which shows you, usually in the order of popularity, posts that also contain that hashtag. This stream is useful for a number of reasons. First, you find out who the people are who are creating or interacting with posts like yours. Secondly, you can discover influencers in your industry. Thirdly, you garner more information about content, who is interacting with it, and info like other popular related content.
Where Should You Use Hashtags?
The best social media platforms for hashtag usage are Instagram and Twitter. You can also use them on Facebook, but be sparing about it in your posts. Always make sure your hashtags are relevant and that you don't have typos in them.
For Facebook and Twitter posts, aim for no more than four hashtags per post. On Instagram using more hashtags is advised. If you do choose to include more than four, you should put some space between the text and the bulk of hashtags to produce a cleaner look. On Instagram, you're limited to using 30 hashtags at a time.
Hashtag Hints
Now that we've explained how and why hashtags function, here's how to find the best hashtags for your dental practice.
Capitalize each word. Hashtags that are more than one word can sometimes be difficult to read. You can make them easier to read by capitalizing every word. For example, #ashforddentalpractice becomes #AshfordDentalPractice, or #funfactfriday becomes #FunFactFriday.
Cultivate engagement with a Call to Action. Entice your social media audience to take advantage of a promotion or participate in a contest or demonstration with a call to action. Any of these CTAs elevates your visibility on social media.
Don't tag individual or generic words. Stay away from hashtagging in this manner: #Join #our #team #today. These hashtag streams will be too vague to access an audience that is relevant to your goals. Hashtags for common words like #do or #the won't get you the social media presence you desire. Better #BrushYourTeeth than #brush #your #teeth.
Proofread your hashtags. Avoid awkward phrases or missed opportunities by proofing your whole post, including hashtags. Proofreading prevents #AssfordDentalPractice vs. #AshfordDentalPractice. Similarly, #DentalCare is going to reach your audience better than #DenralCare. Protect your reputation.
Be precise. The purpose of hashtags is to link you to an appropriate audience. Therefore, being specific helps. So, instead of using the hashtag #cooking, it's better to use the hashtag #tacos. #Cooking will encompass a lot: baking, savory, sweet, etc. #Tacos is precise enough to get the attention of a niche audience.
The Best Hashtags for Your Dental Practice
We hope that this mini-lesson on using hashtags will help you gain more social media visibility. If you would like a more in depth look at how social media can grow your dental practice, contact Capital Practice Consulting today.
We specialize in search engine optimization (SEO), content marketing and social media management for businesses in the Mid-Atlantic. We work with medical practices, dermatologists, plastic surgeons, medical spas, dispensaries, e-commerce websites, lawyers, accountants, financial planners, real estate and any field that needs help marketing a highly technical field.