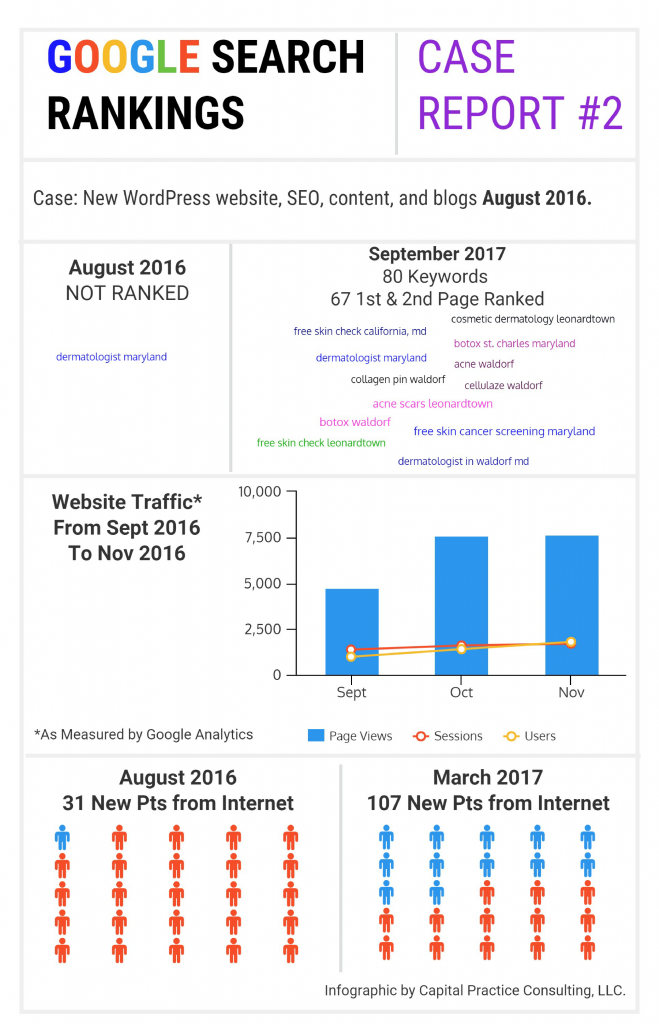 A quick look at the metrics shows just how much of a difference the CPC touch makes: more patients, more website views, and much, much higher rankings.
1. Moving up the keyword ladder
As recently as last month, keywords relevant to our clients' business were completely unranked. Not only have we put 80 of those keywords on the map, but 67 of those keywords are ranked on the first or second page.
This is a huge difference. Imagine taking your business out from a random alley and putting it right off the highway, with easy access.
2. More patients from the Internet!
The Internet has just changed the way businesses operate. It is easily the most important tool in any businesses' toolkit – but many don't know how to use it.
With help from CPC, local businesses are drastically increasing the amount of patients they see. And we have the analytics to prove they're coming from the Internet.
3. 2x as many webpage views in first three months
Subtle web design can make all the difference in attracting visitors to your webpage. We truly believe that, and we have the numbers to prove it. Businesses that work with CPC see a two times increase in the patients coming to their website in just the first three months.
Curious to see if Capital Practice Consulting can make this dramatic of a difference with your own business? There's no risk involved: contact us for a free audit, and we can start working with you today.